The Best of Storage and Style
When it comes to your home renovation, choosing the right kitchen cabinets is a job in itself. A big job. Not only do they take up a considerable chunk of real estate, they're also responsible for providing functionality and setting the overall style in the kitchen.
With kitchen trends constantly changing as designers continue to push the boundaries of their profession, it can be difficult to choose cabinets that are in style and meet your taste at the same time. Here's a list of trends and design features that might provide some inspiration for your next kitchen renovation:
White Never Goes Out of Style
It doesn't matter if it's before or after Labour Day, white will always be in vogue when it comes to the kitchen. Sure, you might have a little more work to do in terms of upkeep—especially if you have kids—but when it comes to kitchen cabinets Calgary homeowners choose for their timeless appeal, it's hard to beat the clean, light and airy effect of a white finish. And white can be used in a variety of styles, including:
Cottage
Traditional
Contemporary
Source: Lisa Gabrielson Design, Featured on Houzz.com
Efficient Storage Space
Back in the day, if your kitchen had a lazy Susan, you were at the pinnacle of storage innovation. Thanks to improvements in kitchen hardware design and innovation, storage in kitchen cabinets has become so much more functional and diverse. There's everything from pullout trays to purpose-built bread boxes to cabinet storage in kitchen islands. Even narrow spaces that would once have been covered with a false cabinet front are cleverly being utilized as storage for things like cookie sheets.
We've Got a Handle on This
Many Calgary homeowners are going for a sleek, modern look by foregoing handles on their kitchen cabinetry. Instead, they're using either integrated handles (built into the doors—or handle-less cabinets. Both choices will impart a clean, contemporary look to any kitchen and are sure to generate conversation—and possibly some inquisitive looks—from visitors.
Source: VSP Interiors, Featured on Houzz.com
Lighten up
Sometimes it can be difficult to see in the recesses of a dark kitchen cabinet or drawer. Incorporating some long-lasting, energy-efficient LED lighting as part of a custom cabinetry design is a great way to add practical flair to your kitchen.
Source: Barbara Bright Design, Featured on Houzz.com
Hidden Functionality with Drawer Inserts
Kitchen renovators are rethinking the way they use their storage place. Instead of swinging cabinet doors, many designers are choosing to have large pullout drawers with inserts that can accommodate a large number of hidden features:
Pot and pan holders
Recycling and composting bins
Ingredient storage for baking
Upright utensil and flatware storage
These inserts can be customized in an endless variety of configurations to ensure you end up with functional storage that meets your needs.
Source: WoodWorks INC., Featured on Houzz.com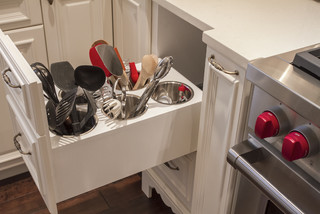 Looking to incorporate the latest trends into your custom kitchen cabinets? Call or email the Calgary woodworking specialists at Athena Industries to discuss your design goals and learn how we can add style and innovation to your kitchen renovation project.